The following essay provides context for FTC's perspective on Latin America and a link to Atlantico's must-read 2023 Latin America Digital Transformation Report. A huge high-five to Julio and the team for their comprehensive, nuanced analysis of the region and factors driving the opportunity set.
As the home of magical realism, Latin America has always been a land of wonders. Over the last decade, this electricity has become significantly more tangible in a new way, as the advancements of tech meet the heavily analog markets, wrapped in the context of growing economies and an emerging middle class.

The potential was always clear. Brazil and Mexico both rank among the twenty largest economies in the world. And with 660m people and $6t USD of GDP across the region, Latin America would rank as the world's third-largest economy if it were one country.

Geopolitically, it is very well positioned, as Mexico enters a generational opportunity thanks to US nearshoring, juxtaposed to the rest of the region, where China has emerged as the main trading partner. Furthermore, Latin Americans rank among the heaviest internet users in the world and lead global usage for numerous social media platforms, such as Facebook.

Yet there is much more than immediately meets the eye, for example:
Despite taking in fewer venture dollars, Latin America has already seen more $1b+ exits than comparable emerging markets, representing over $80b in market capitalization (and followed by a robust pipeline of unicorns waiting eagerly for the markets to re-open).

Brazil's real-time payment system – PIX – has become a global example, and its usage per capita has soared to double that of India's UPI.
Backed by a steady flow of entrepreneurs and operators moving "back" to the region to start and run businesses, we are energized by the opportunity set. We have been actively investing in the region for six years, initially as part of our "frontier strategy" and, from Fund III, as part of the "core" allocation.

Today, we have ten active portfolio companies, across numerous fintech verticals. These models span digital banking (Fondeadora) and financial wellness (minu) in Mexico to regional-level financial-ops automation (Simetrik) and vertical SaaS with embedded finance (mattilda).

FTC portfolio companies are addressing a variety of essential needs, from relieving short-term cash emergencies, to ensuring access to education, and even providing access to a first-time bank account. The portfolio also includes building block providers for the future of the region's payments and financial infrastructure, some of which we see as exportable to other emerging markets beyond Latin America.

With the market cap of tech companies representing just 1.8% of GDP in Latin America, compared to 64% for the US and 20% for China, we are just getting started and look forward to backing the next generation of fintech entrepreneurs in the region.

Highlights from Atlantico's 2023 Latin America Digital Transformation Report

Latin America's +600m population reveals a massive market teeming with opportunities for disruption. Central to this $6t USD economic block are powerhouses Brazil and Mexico, representing 58% of the total GDP of the region.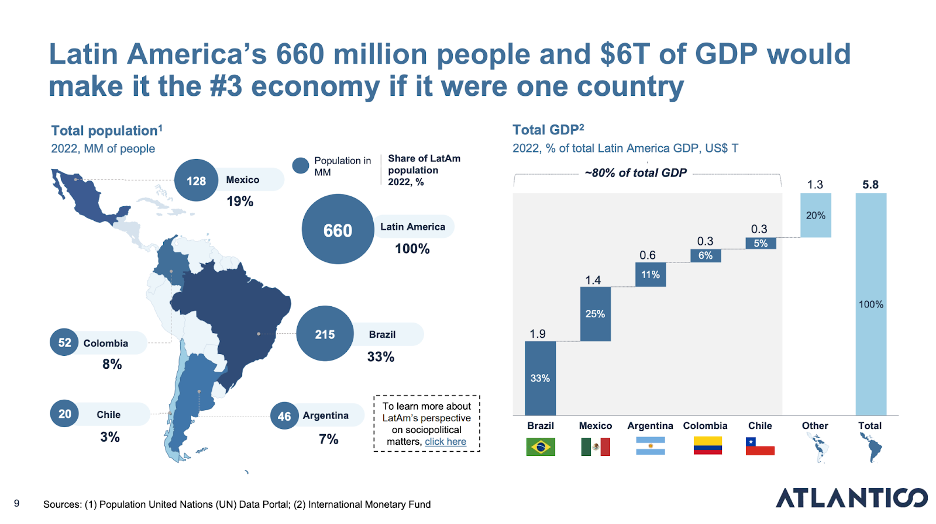 As trade tensions escalate between the US and China, companies are increasingly looking for alternative manufacturing and sourcing hubs to mitigate risks and ensure steady supply chains. Mexico, with its close geographical proximity to the US, favorable trade agreements, and a robust manufacturing infrastructure, has surged as an attractive alternative.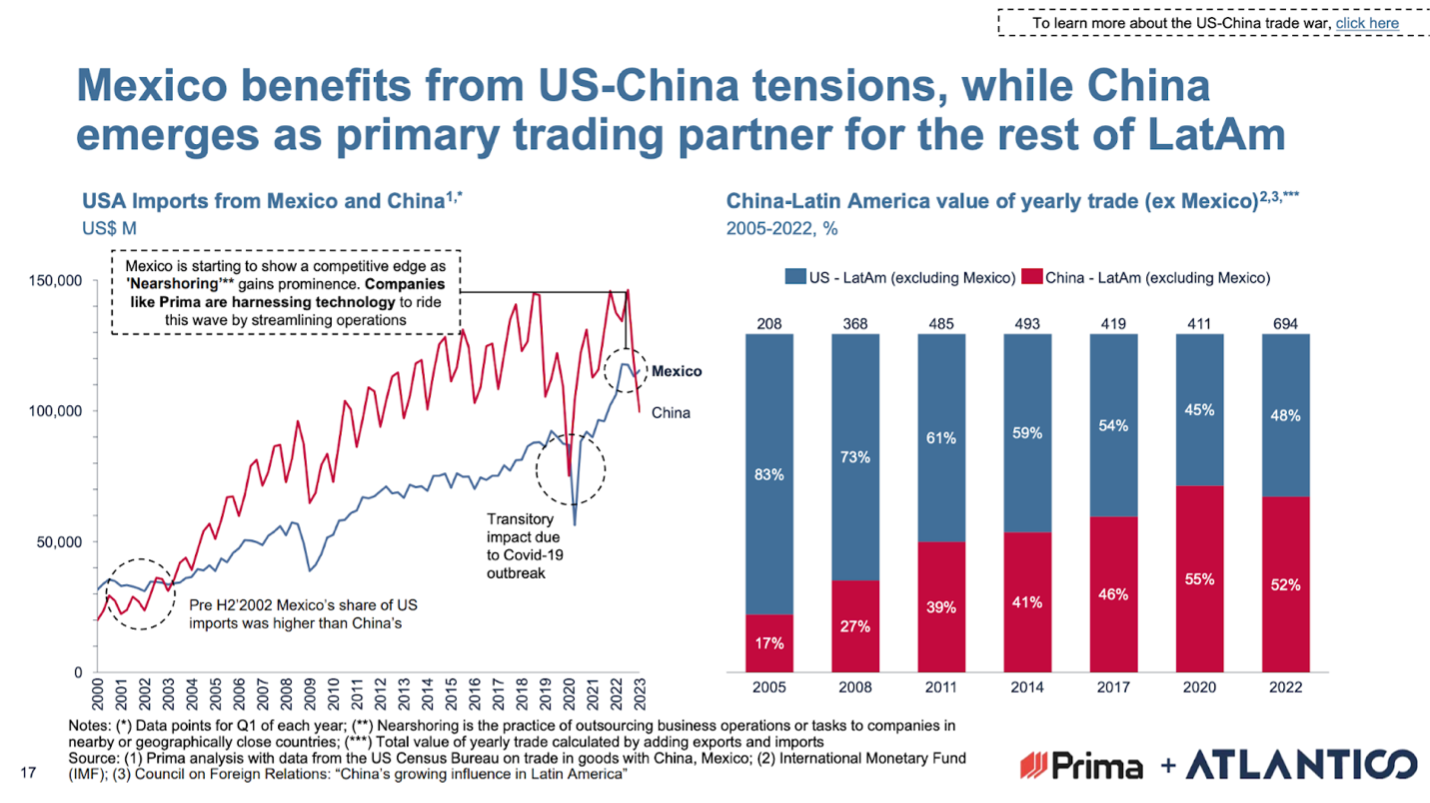 While LatAm has seen a smaller proportion of VC funding relative to its GDP compared to other emerging regions, it has achieved notable success for its investors. In 2022, VC investments in LatAm accounted for just 0.1% of its GDP. Meanwhile, India's VC investments represented 0.7% of its GDP, and Southeast Asia's made up 0.3%, both of which are considerably larger.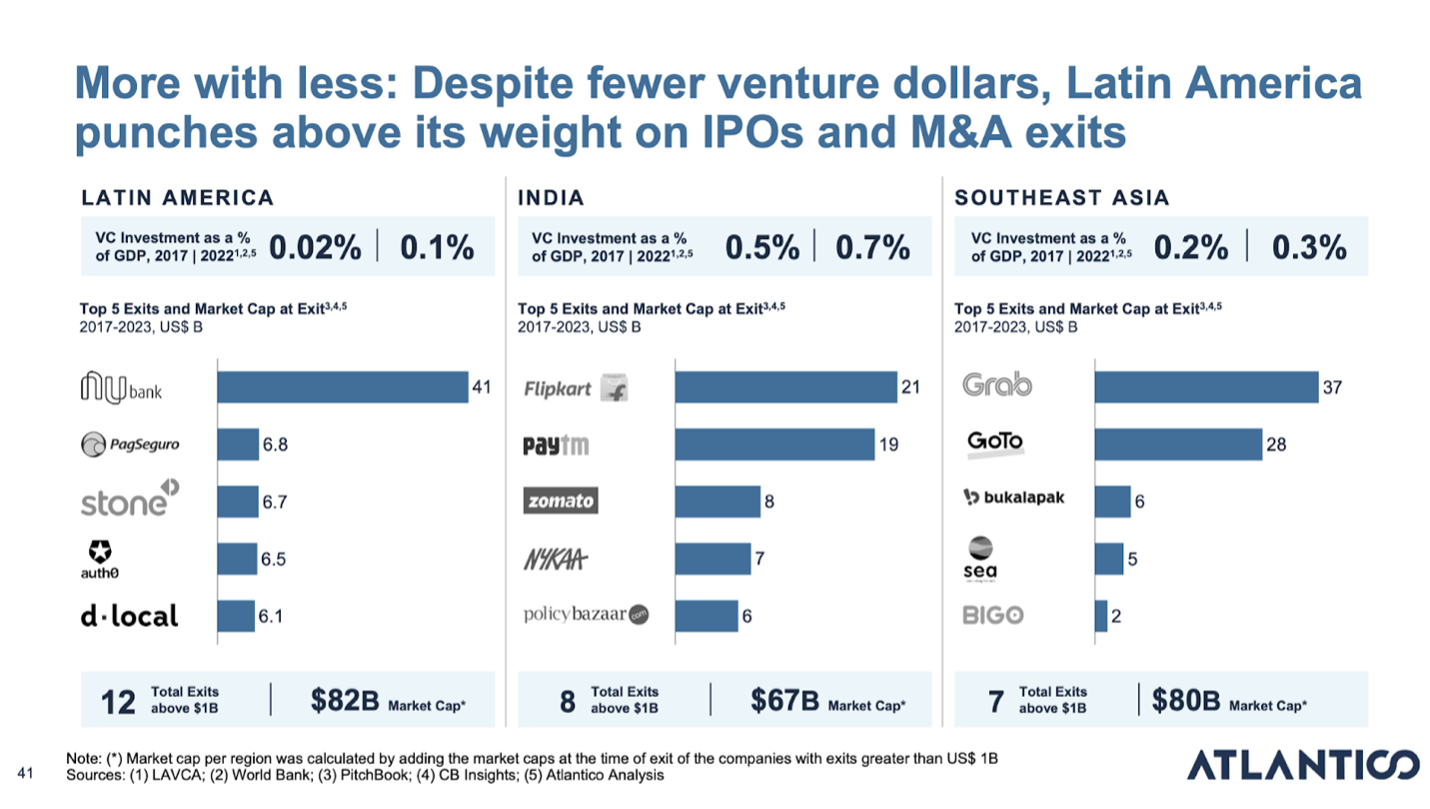 FinTech Collective's Latam portfolio includes Contabilizei, Fondeadora, Mattilda, Minka, Minu, OpenCo, Oxio, Runa and Simetrik.